Dental Implants in St. Louis
---
Ballas Dental Care provides dental implants in St. Louis, MO. Call 314-432-5544 to learn more and schedule your appointment.
Dental implants are the preferred option for missing teeth because they are the only solution that addresses tooth loss both above and below the gum line. The dental implant itself replaces the root and it supports a restoration that replaces the visible portion of a tooth. Implant-based restorations look, feel, and function more like your natural teeth than any other option available today.
Another significant benefit of dental implants is that they prevent bone loss in the jaw. When the root of a tooth is missing, the body receives a signal that the supporting bone is no longer needed to hold the tooth in place. This bone is then broken down so its minerals can be transported elsewhere in the body, resulting in a weaker bite and a prematurely aged appearance. Bridges and dentures can restore your smile and much of the function of your missing teeth, but to preserve your jawbone, dental implants are the best solution.
At Ballas Dental Care, we use state-of-the-art technology in all of our dental implant procedures. Our 3D planning software allows us to create precise surgical guides that detail the exact placement of each dental implant, reducing the potential for complications and optimizing patient outcomes. The simplified procedure we use for placing implants has an easier recovery, with less discomfort and downtime.
We offer the following types of dental implant restorations:
---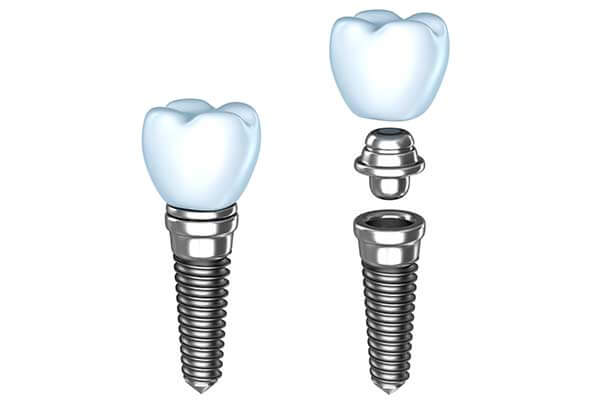 ---
Single Tooth Dental Implants
---
A single-tooth dental implant is an excellent alternative to a traditional bridge, as it doesn't require the support of your adjacent teeth. Instead, a dental implant supports a crown to replace your missing tooth. Your crown can last a decade or more, while the dental implant itself can last a lifetime.
---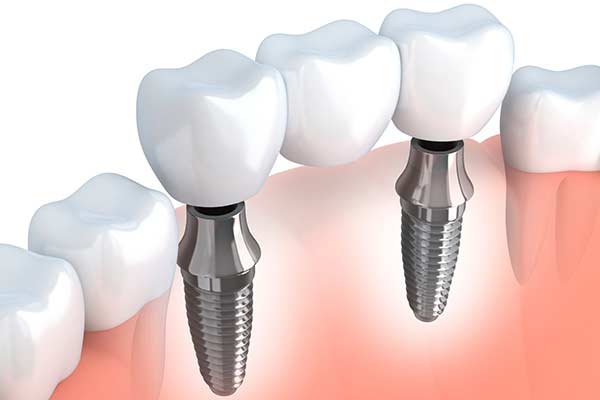 ---
Implant Supported Bridges
---
When you're missing a few adjacent teeth, an implant-supported bridge is a more cost-effective solution than placing several single-tooth dental implants. This type of restoration involves placing dental implants on each end of the span of missing teeth, then using these implants to support a bridge.
---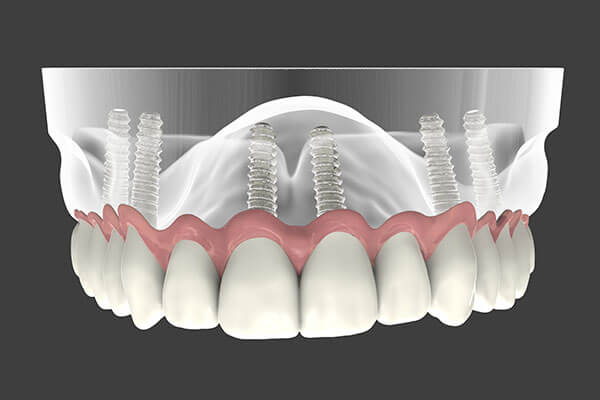 ---
Implant Supported Dentures
---
Implant-supported dentures can be full or partial and fixed or removable (also known as snap-on dentures). By using dental implants to hold dentures in place rather than denture adhesives, your restoration is stable and comfortable, helping you feel more confident in your smile.
---
Frequently Asked Questions About Dental Implants
---
Are dental implants worth it?
Yes, dental implants are worth the investment. You'll enjoy a beautiful smile, a stronger bite, and a restoration that feels comfortable and natural.
Do I need anesthesia for dental implants?
We use local anesthesia for dental implants to ensure that you're comfortable throughout the procedure. Sedation dentistry is also available to help you feel relaxed and calm while we work.
What happens if you don't have enough bone for dental implants?
If you've already experienced bone loss in the jaw, you may need bone grafts prior to dental implant surgery. This procedure helps build up the bone in your jaw so it can support your dental implants.
Does insurance cover dental implants?
Some dental insurance plans provide coverage for dental implants and in certain circumstances, your health insurance may also offer coverage. We can help you understand your benefits and out-of-pocket costs.
How soon after an extraction can you get dental implants?
There are some situations in which we can place dental implants at the same time as an extraction, but other times we will allow your gum and jaw to heal before your implant is placed. This depends on the dental implant restoration being performed and your oral health.